Create the perfect visual impression, engage your customers and turn your vision into reality.
In today's competitive real estate market, success often hinges on the ability to generate interest in a new development or project before construction begins. This requires a precisely thought-out campaign that communicates the project's value to potential customers, even before they exist.
At LuxQue, we understand the importance of presenting your project in the best possible light. Our services are strategically designed to help you generate interest among potential customers and build confidence in your vision. By creating an emotional connection with your audience, we can help you introduce them to the appearance and use of your space, even before it's realized.
With our expert marketing strategies and cutting-edge technology, we can help you reach a wider audience and position your project for success. From creating engaging video content to optimizing website for search engines, we have the tools and expertise to take your real estate marketing to the next level. Let LuxQue help you showcase your vision and attract the customers you need to make your project a success.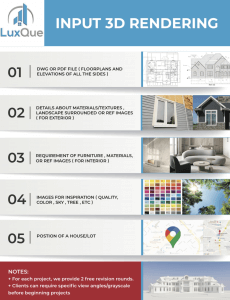 At LuxQue, we understand the importance of making a good impression when showcasing your real estate project. To do this effectively, it's crucial to present your space in a professional, aesthetically pleasing, and photorealistic manner. By creating a story that captivates your audience and evokes emotions, you can unlock the keys to the greatest marketing tools.
To help our clients achieve this, we offer cutting-edge technology that not only communicates how a space will look, but also allows users to walk through a three-dimensional space in virtual reality. This technology revolutionizes the way you can present your project, giving you a huge market advantage over your competitors.
Whether you're developing a commercial or residential building, our team of expert graphic designers can help you create a presentation that's worthy of your vision. We offer a complete suite of services to help you gain an advantage in the market and turn your vision into a reality. Contact LuxQue today to learn more about how we can help you showcase your real estate project with maximum impact.
Create The Right Impression
Present yourself in the best light and instill in your customers an unbreakable confidence in your vision.
Requirements expressed by our clients always vary. However, no matter the project, the client always receives an effective solution. Using computer graphics, we can create a truly riveting presentation that will grab your customer's heart.
Visualization
The room is presented in the form of still images or 360-degree panoramas. Photorealistic 3D visualization accurately captures all objects, their dimensions, and the materials used, therefore creating an accurate representation of what the room will actually look like
Animation
Just like realistic 3D visualization, animation enables the presentation of space in motion, which is accompanied with sound effects or music. We can therefore create a dynamic atmosphere, deepening the experience and resulting effect which the clients will be able to perceive.
Virtual Reality
The highest level of presentation that utilizes special glasses is provided by a brand called Oculus Rift, which, when adorned, transfers the individual into a virtual space. By offering a truly three-dimensional view of the area, the glasses provide an unparalleled viewing experience that truly transports the wearer into the space itself.
You won't believe they're not real
We place a great emphasis on the quality of our visuals, and strive to make them indistinguishable from reality.
The future of sales, available today
Build your marketing campaign on firm foundations to maximize your return on investment.
With us, it'll truly be easy. We'll prepare a complete graphic solution, from which you'll have the ideal position to sell your vision even before you begin construction. Using the latest technology in virtual reality and computer graphics, you can create an effect which your customers simply cannot resist.